Note: We are an independent 3rd party site providing guidance regarding Glance Intuit screen sharing software. Intuit, QuickBooks and ProConnect are trademarks and service marks of Intuit, Inc., registered in the United States and other countries.
Joining a Glance Intuit remote session is extremely simple with a QuickBooks Online or ProConnect Tax Online Intuit agent.
You'll need to be on the phone with a QuickBooks or ProConnect Tax Online agent and ask for the remote support department. This department can guide you through the process of starting a remote screen sharing session but it's rather simple.
If you've not downloaded and installed the application yet visit our Glance Intuit download and installation guide and return here once you've completed this step.
To start a remote session you'll need to visit Glance.Intuit.com and click on the "Having Trouble?" link near the lower left hand corner of the page. From there a box will pop-up and you'll need to click on the link in step 3 that says "Click here to start Glance" as seen below.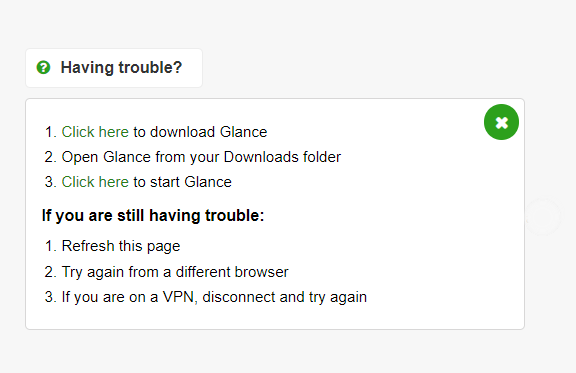 After clicking the link the link to start Glance you will need to give your browser permission to open Glance Guest. Just click the "Open Glance Protocol Handler" to advance. The application will open as small square on your screen and you will see a session code that is 5-digits. You will need to give code to the Intuit QuickBooks Online or ProConnect agent you are on the phone. The agent will use this code to join a remote session with you which will give them a live view of your screen and the ability to control you mouse if choose to give them full remote access.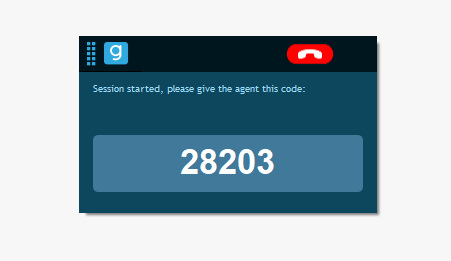 How to End a Glance Intuit Remote Session Once Finished?
Once the Intuit agent has solved your issue you can simply click the red hang up button to end your remote session.
If you are on a remote session and for any reason you become uncomfortable with sharing your screen you can click the hang-up button to immediately end the remote session.
What if I Get Disconnected in the Middle of A Remote Session?
You should provide your phone number to the agent over the phone before initiating the remote session so that they can call you back in the event that you are unable to reconnect. By doing this you can restart a new remote session with the same agent rather than having to re-start the entire process.