Note: We are an independent 3rd party site providing guidance regarding Glance Intuit screen sharing software. Intuit, QuickBooks and ProConnect are trademarks and service marks of Intuit, Inc., registered in the United States and other countries.
Though Glance Intuit is an extremely simple software application there are an astounding number of questions surrounding it and minimal information available.  Many people are confused about how to download the software, how to start a remote session, what the software does, among many other questions. Read on below for answers to Frequently Asked Questions.
What is Glance Intuit?
Glance Intuit is a basic remote screen sharing software application for Windows and MAC operating systems. It always QuickBooks an Intuit ProConnect Tax Online users to remotely connect with a trained Intuit agent and share their screen for faster solutions to the questions they have about using Quickbooks and ProConnect.
How Does Screen Sharing Work?
Screen sharing is simple, just download and install the software. Then jump on the phone with Intuit's QuickBooks screen sharing department and fire up the application, provide the agent with the on-screen code and you'll be connected in a jiffy.
How Do You Download Glance Intuit?
Downloading the software is simple. Just visit glance.intuit.com and your download will start automatically.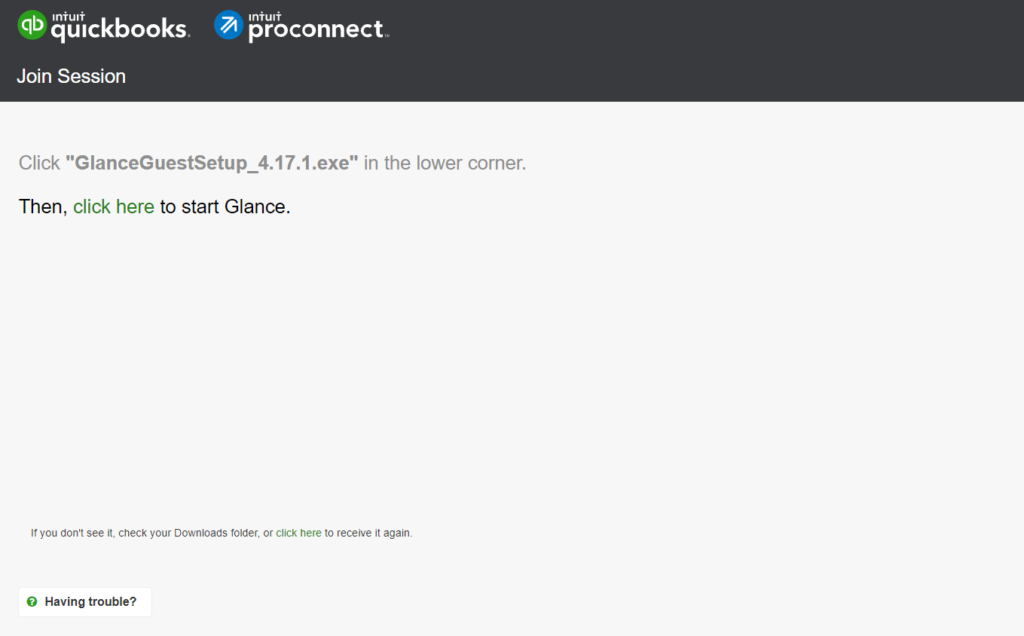 How Do I Install Glance Intuit?
Once you've download the application file just find it wherever your downloads go (in Windows by default this is the Downloads folder). Double click the .exe file to run the Windows Installer and your download will begin. The Windows installer will require you to agree to let it install the program and voila, your installation is complete!
How Can I Update to the Latest Version of the Software?
If you need to update your software simply visit the official Glance Intuit site and latest version of the software will automatically be downloaded. After download, follow the standard installation process described above and it will automatically overwrite any older version currently on your computer.
How Do I Start a Remote Session?
Call Intuits' QuickBooks online support. From there tell them you'd like to start a remote screen sharing session. They will then direct you to an agent that handles these type of calls.  Go back to the official Glance Intuit site and click on the "Having Trouble" link in the bottom left. Then click the link in step 3 to start a session. The Glance application will the popup with a 5-digit code. Just give your code to the Intuit agent over the phone and they will use this code to connect with your computer remotely.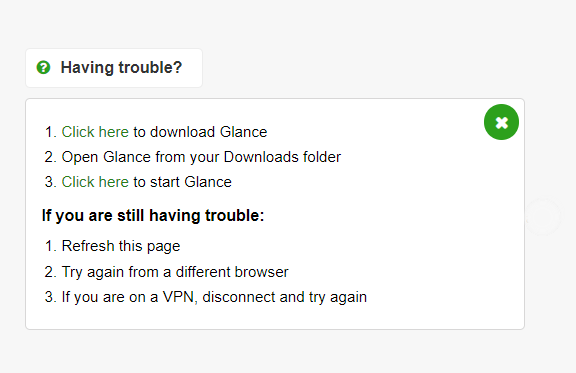 Can I use Glance Intuit on My Mobile Phone or Tablet?
Unfortunately, the application does not work on mobile operating systems such as an iPhone, Android phones or tablets. It is only compatible with MAC and Windows operating systems. When you visit the official Glance Intuit site here is what you will see.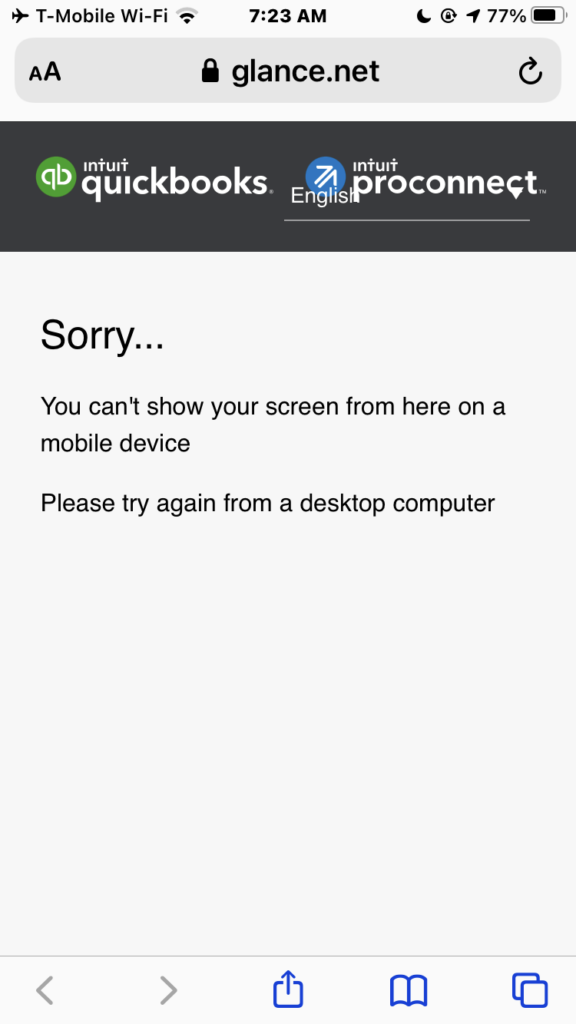 Is Glance Intuit Safe?
Yes, Glance Intuit is safe. You can be sure it is safe because it is offered directly by Intuit, the creators of QuickBooks and ProConnect Tax Online.
What if I Feel Uncomfortable Sharing My Screen?
Remote screen sharing is not new and has been used by many reputable companies for many years now. There is nothing to worry about because you will be connecting directly with an employee of Intuit. It is suggested you close any programs or Windows that have personal information before sharing your screen. You can also disconnect from the remote session at any moment by pressing the hang-up button in the software.
What if I Feel Uncomfortable Giving A Stranger Control My Computer?
Again, this type of support is completely normal and you are not sharing it with a stranger but rather a highly trained specialist employed by Intuit. As mentioned above, you can quickly and easily end any remote session by clicking the hang up button if you're feeing uncomfortable.